Prayer Requests
<![if !supportEmptyParas]> <![endif]>
<![if !supportEmptyParas]> <![endif]>
<![if !supportEmptyParas]> <![endif]>
Testimonies
Delivered from crack cocaine, other drugs and drinking
<![if !supportEmptyParas]> <![endif]>
       Missionary Kim and
       Evangelist Greg Gill
<![if !vml]>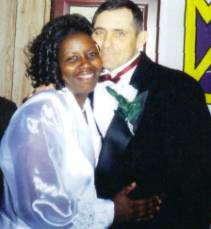 <![endif]>Hello Rev. Dright, I just wanted to
write to you and your wife
to let you both know how you
blessed me.  Before I came to New Orleans from Washington DC.
my life was a mess. I was hooked on crack cocaine, drinking and abusing
other drugs. I thought I was either
going to jail or end up dead
somewhere. I just wanted to thank
you and your wife for praying and
laying hands on me to be delivered and set free!!!  I also want to
thank you for ministering the on-time word of God, which has
kept me free. Please continue being a blessing as I am sure you
are to many others.  I have been delivered now as of this date
September 2002 for eleven (11) years, Glory be to God Almighty. 
God has blessed me beyond my expectations.  I received
my high school diploma, bachelor's degree in Education, and a bachelor's degree in Divinity.  God has also blessed me financially
to become a homeowner. And the latest but certainly not the
least, God blessed me with a wonderful husband, a man of God,
July 22, 2002, was our one-year Anniversary.  My God says in
Ephesians 3:20 that He can do exceeding, abundantly above all
that we ask or think. And I will say again, Glory be to the
Most High God.
<![if !supportEmptyParas]> <![endif]>
<![if !supportEmptyParas]> <![endif]>
Delivered from Homosexuality
<![if !supportEmptyParas]> <![endif]>
            Deacon Daniel Moses
<![if !vml]>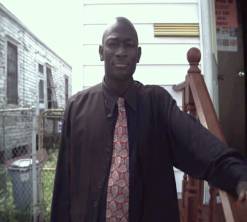 <![endif]>
<![if !supportEmptyParas]> <![endif]>
I thought God made me to have relationships with men. I was
in this lifestyle for 10 years.
I heard God talk to me and tell
me my lifestyle was an abomination unto him.  I repented and God
instantly delivered me. 
You can be set free also.
<![if !supportEmptyParas]> <![endif]>
The first step is to except Jesus Christ as your personal Lord
and Savior. God has a new life for you, just say the repentance
prayer and you will be saved.
<![if !supportEmptyParas]> <![endif]>
<![if !supportEmptyParas]> <![endif]>
Testimonies from the Causeway
Abortion (Murder) Mill in Metairie
<![if !vml]> <![endif]><![if !supportEmptyParas]> <![endif]>
<![if !supportEmptyParas]> <![endif]>
<![if !supportEmptyParas]> <![endif]>
<![if !supportEmptyParas]> <![endif]>
<![if !supportEmptyParas]> <![endif]>
Testimonies of how several women's lives were changed
By the Power of God, YES prayer does change situations,
And YES it does make a difference when Christians come
out of the four walls of the church building
 and go to the battleground and
make a stand for the Word of God.
Testimony # 1 A car passes a horn blows, thumbs up A Big
smile (Much comfort to the sidewalk counselors,
and the pro-lifers.) This time when the car approached
the comer the 35-to-38 year old woman made a U-turn
and came back. She pulled up on the
sidewalk, in front of the abortion mill. She said
when she arrived at the comer, the Holy Spirit impressed
her to turn and come back.  She said she admired us
and what we were doing, and had to come back,
to tell us, and thank us!
Twenty years ago she was raped and it resulted in a
pregnancy, she said she was going to have an abortion,
but when she came to the abortion mill she
saw the pro-lifer praying, bibles, pictures, and
comforted, seeing all of this she just could not go through
with the abortion. Then the thought about giving the baby up
for adoption came to her mind, and she said,
"I could not do that either so she kept the baby". 
She then told me she continued to live
in sin, but always sent her daughter to church, and
sometimes, even took her herself.
As a young girl her daughter became a Christian, and
at 13-years old, she led her mother to the Lord.
(The very child she had planned to abort).
<![if !supportEmptyParas]> <![endif]>
Now they go to a Bible teaching church on the
West Bank. The mother plays the guitar and sings
in the choir. She said; "every day has been a
blessing since, she had the child, and does not
want to think what her life would have been like,
with out her "We thanked her so much for sharing
this with us!
<![if !supportEmptyParas]> <![endif]>
Testimony # 2 - A mother and her 15-year-old daughter were
walking into the abortion clinic parking, lot, when
a sidewalk counselor spoke to them.
The mother had brought her daughter to the
abortion clinic, hoping that it would heal her
daughter's hurt and pain from being raped. Her
daughter was pregnant. Because of the love of
Jesus that was offered, and the persuasion of the
sidewalk counselors the mother and daughter
decided to go to the Crisis pregnancy center for
more counseling. Which is located next door to the Abortion Clinic.
They spent most of the afternoon
with counselors, talking, and crying. At the end of
the afternoon the daughter decided to give birth to
her baby. And they will keep it and, raise it.
(Praise the Lord)
<![if !supportEmptyParas]> <![endif]>
Testimony # 3 A beautiful young women with a large smile,
pulled up to where I was standing, in front of the
abortion mill, I had to come by to thank you all she
said; for being here, if you had not have been here
in front of this place praying for me, as I came for
my abortion. My beautiful baby girl would not be
here now, as she turned towards the back seat
where a precious infant was sleeping, in a car seat.
Just a few months ago she had planed to abort.
My heart felt so warm that God has used us to
protect this precious life! As I leaned into the
drivers window I could also see another small
child in the seat next to her, he was sleeping also, I
said; to her he's so beautiful, she told me it's his
birthday.
I asked her if there was any thing she needed,
or wanted, I told here that we could help her with,
baby clothes, food diapers, or
whatever else. She said, with another very large smile
on her face "just continue to pray for me" As she
drove away I said; thank you sweet Jesus" now
there will be another Birthday in this family.
<![if !supportEmptyParas]> <![endif]>
<![if !supportEmptyParas]> <![endif]>
Testimony # 4  - What a lovely lady, just as sweet as she could be,
walked up to us on the sidewalk (the Saints) in
front of the abortion clinic. Her hair shinned like
silk, and her bright eyes just twinkled, you could
see the joy of the Lord in her every step as she
said; "I'm on my lunch hour so I have to hurry I
just wanted to tell you all "thanks" for being here
for me 11 years ago.
My boy friend brought me here when I found out
I was going to have a baby to get an abortion.   I saw
the Christians, praying, and the lady's offered to
help, some walked and carried signs -That showed
the truth of how the babies were aborted we drove
into the parking lot, my heart just broken. As I
started to get out the car I couldn't.   All I could do
was to cry. I just cried and cried, I could not move I
just sat there, I told him "please just get me out of
here" and he did!
The baby she had planned to abort was twin girls,
that was 11 years ago; I walked up the street, and
have wanted to stop! Sorry it took me so long.
I latter married my boy friend, and we had two
more children.
You could see the joy of the Lord in her, and the
love she has for her children just by the way she
talked about them, and how she carried herself.
Give the Lord the Glory.
<![if !supportEmptyParas]> <![endif]>
We all come tagged with a designer label:
"Individually Grafted with the compliments of
your Creator."
God Bless!
<![if !supportEmptyParas]> <![endif]>
<![if !vml]>

<![endif]>
Salvation/Repentance Prayer
Father God, I have sinned and fallen short of the glory of God. 
I denounce the work of the devil in my life. 
I believe in my heart that Jesus Christ is the Son of God
he came in the flesh died for my sins, went to hell for me;
on the third day he was raised from the dead
by the power of the Holy Spirit. 
He is now seated at the right hand of God. 
Today, I open my heart unto you Jesus,
you are my personal Savior and Lord,
have your way in my life,
not my will but let your will be done in my life. 
Thank you for saving me.  Amen.
<![if !supportEmptyParas]> <![endif]>
If you said this prayer E-mail us so
we can send you a free tape
on Salvation and Baptism. 
Feel free to send in your testimonies
so we can put them online
so others can be blessed.
<![if !supportEmptyParas]> <![endif]>
<![if !vml]> <![endif]><![if !supportEmptyParas]> <![endif]>
<![if !supportEmptyParas]> <![endif]>
<![if !supportEmptyParas]> <![endif]>
<![if !supportEmptyParas]> <![endif]>
<![if !supportEmptyParas]> <![endif]>
<![if !supportEmptyParas]> <![endif]>
<![if !supportEmptyParas]> <![endif]>
<![if !supportEmptyParas]> <![endif]>
<![if !supportEmptyParas]> <![endif]>
<![if !supportEmptyParas]> <![endif]>
<![if !supportEmptyParas]> <![endif]>
<![if !supportEmptyParas]> <![endif]>
<![if !supportEmptyParas]> <![endif]>
<![if !supportEmptyParas]> <![endif]>
<![if !supportEmptyParas]> <![endif]>
<![if !supportEmptyParas]> <![endif]>
<![if !supportEmptyParas]> <![endif]>
<![if !supportEmptyParas]> <![endif]>
<![if !supportEmptyParas]> <![endif]>
<![if !supportEmptyParas]> <![endif]>
<![if !supportEmptyParas]> <![endif]>
<![if !supportEmptyParas]> <![endif]>
<![if !vml]>

<![endif]><![if !vml]>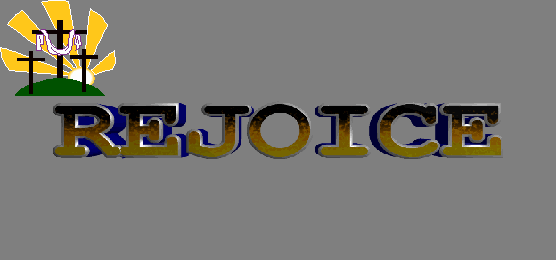 <![endif]>
<![if !supportEmptyParas]> <![endif]>
<![if !supportEmptyParas]> <![endif]>
E-mail address: jesustherock@bellsouth.net